PREVIOUS TRADING DAY EVENTS – 24 August 2023
According to the U.S. Unemployment Claims Report, the number of Americans filing new claims was reported lower than expected at 230K. The figures were lower
for a second straight week.
This is against the economists' expectations of a downturn in the labour market since the Fed began increasing rates in March 2022. The anticipated shock, however, hasn't arrived, and the labour market is continuing to defy expectations.
"What a difference six months makes. Jobless claims were flashing yellow and red lights about the pace of expansion in the winter and spring, but are back to green this summer," Bill Adams, chief economist at Comerica Bank, said in a statement.
A separate report showed a rise in new orders for key U.S.-manufactured capital goods in July, suggesting business spending on equipment could continue to grow.
In general, we have a combined slowdown in inflation and a relatively resilient job market.
Source: https://www.reuters.com/world/us/us-jobless-claims-fall-labor-market-remains-tight-2023-08-24/
______________________________________________________________________
Winners vs Losers
XAGUSD (Silver) moved to the top this week gaining remarkable gains, 5.98 % so far. 
USDCAD is still leading this month with 3.06% gains.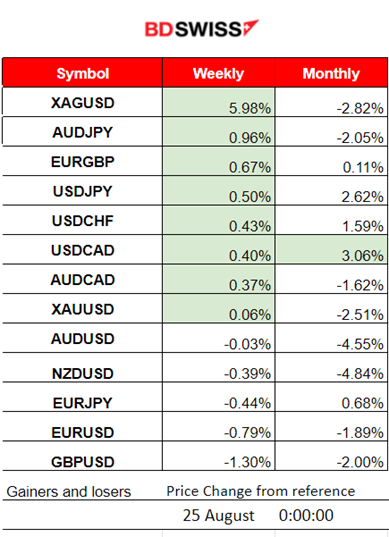 ______________________________________________________________________
News Reports Monitor – Previous Trading Day (24 August 2023)
Server Time / Timezone EEST (UTC+03:00)
Midnight – Night Session (Asian)
No important news announcements, no special scheduled releases
Morning–Day Session (European and N. American Session)
Unemployment claims for the U.S. were reported lower than expected and in particular, 10K less than the previous figure. Core durable goods orders saw an increase of 0.5% same as the previous and more than expected while the total figure for orders reported a more than-expected decline since the manufacturing recession continues. The claims and core durable goods orders suggest that the fight against inflation is not over yet. Spending is still on and prices are sticky. 
At the time of the above releases the USD appreciated in value, the shock was actually moderate and overall, it gained strength until the end of the trading day. The DXY started the upward movement early and sustained it with a steady pace while being above the 30-period MA until the end. 
General Verdict:
Low volatility, USD the main driver. Appreciation overall as per the DXY.
Some EUR appreciation & GBP depreciation was notable.
U.S. stock market intraday crash after the NYSE opening.
Commodities experienced volatility during the news but the path remained almost sideways overall.
____________________________________________________________________
FOREX MARKETS MONITOR
EURUSD (24.08.2023) Chart Summary
Server Time / Timezone EEST (UTC+03:00)
Price Movement
The pair moved to the downside in general, mirroring the DXY path since the USD was the main driver. It started early to move to the downside and at 15:30 during the figure releases it experienced a shock. With USD appreciation at the time, it moved rapidly downwards for a while, before retracing quickly back to the mean. Later, it continued with a downward movement since the USD continued its appreciation against major currencies.  
___________________________________________________________________
CRYPTO  MARKETS MONITOR
BTCUSD (Bitcoin) 4-Day Chart Summary
Server Time / Timezone EEST (UTC+03:00)
Price Movement
The market was ranging recently between 26250 and 25780. This changed on the 23rd of August when the U.S. PMIs were released. The figures were destructive for the U.S. business conditions causing the USD depreciation. This caused bitcoin to move to the upside breaking the resistance near 26250 and moving to the next resistance rapidly at near 26800 before eventually retracing. The path was apparently driven by the USD mainly. Bitcoin eventually returned back to the mean and continued sideways with high volatility and around the MA settling near the level of 26100 USD.
Crypto Sorted by Highest Market Cap: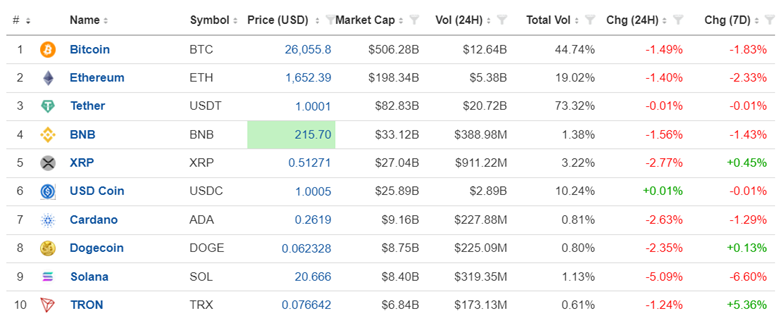 In the past 24 hours, we have seen a fall in all major cryptos. As per the Bitcoin chart, in fact, it declined in value yesterday and most of its path is explained by yesterday's strong and steady USD appreciation.
Source: https://www.investing.com/crypto/currencies
______________________________________________________________________
EQUITY MARKETS MONITOR
NAS100 (NDX) 4-Day Chart Summary
Server Time / Timezone EEST (UTC+03:00)
Price Movement
The index broke significant support levels recently, pushing it even higher. It eventually found resistance at near 15375 USD but soon crashed. Yesterday 24th of August, it actually reversed, crossed the MA on its way down and fell more than 570 USD. It seems that it found support today at 14761 USD and is likely to remain there testing it. However, correction is common after crashes. More likely back to the 61.8 retracement level. 
TradingView Analysis:
https://www.tradingview.com/chart/NAS100/zgAVikc2-NAS100-2nd-Attempt-25-08-2023/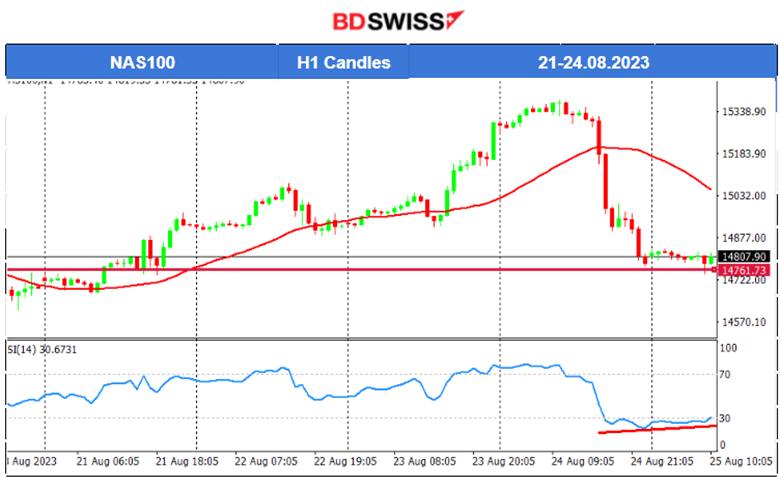 ______________________________________________________________________
COMMODITIES MARKETS MONITOR
USOIL (WTI) 4-Day Chart Summary
Server Time / Timezone EEST (UTC+03:00)
Price Movement
Crude seems to have chosen its direction. It broke the non-apparent triangle and is moving to the upside. Further evidence to suggest a future upward movement is the RSI which shows bullish divergence (higher lows). It could also be the case that even though the downtrend has ended, a sideways path is more likely for now. The price is settled currently at near 79.5 USD/b. Let's see.
XAUUSD (Gold) 4-Day Chart Summary
Server Time / Timezone EEST (UTC+03:00)
Price Movement
Gold climbed significantly this week as it broke some important resistance levels, 1905 and 1913. 1923 serves as an important resistance at the moment and the price seems to have reversed. Gold now tests the support at 1913 USD/oz and its break could push it to dive lower back to 1905. The RSI shows a bearish divergence still. 
______________________________________________________________
News Reports Monitor – Today Trading Day (25 Aug 2023)
Server Time / Timezone EEST (UTC+03:00)
Midnight – Night Session (Asian)
According to the 2:30 report, inflation in Japan's capital slowed in August, to 2.8% versus the previous 3%, staying above the BOJ's target. The market did not react much to this release.
Morning–Day Session (European and N. American Session)
No major scheduled releases today and therefore no major intraday shocks are expected to take place. At 11:00, the German Ifo Business Climate could spark some more volatility for the EUR pairs. At 17:00 the U.S. Revised UoM Consumer Sentiment figure could have some impact on the USD pairs.
The important fact is that we have a number of upcoming speeches after 17:00. The Economic Policy Symposium, held in Jackson Hole, Wyoming, is attracting central bankers, finance ministers, academics, and financial market participants from around the world. Federal Reserve Chair Jerome Powell is expected to speak today in Jackson Hole and his comments could potentially cause extreme volatility as he refers to inflation and future policy.
General Verdict:
Expecting more volatility after 17:00. Jackson Hole.
Possible reversal of U.S. Indices after yesterday's crash. Eyes on NYSE opening.
______________________________________________________________